-How To Choose the Correct Stepped Attenuator Value. General Rules and Considerations:
1)

-When upgrading from a potentiometer, use the same value stepped attenuator. (5K, 10K, 25K, 50K, 100K, etc.)
If you need to find the potentiometer value by measuring it:
1) Unplug the equipment from any AC source.
2) Unsolder two of the three wires going to one channel of your potentiometer. (It does not matter which two wires.)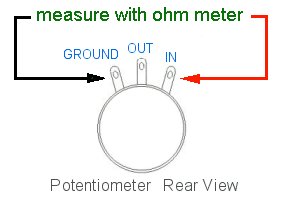 2)

-Matching the volume control value to the amplifier/pre-amplifier input impedance is not as important as some people think, so you typically don't really have to worry about this. For a 100K input impedance, use a 100K, 50K, 25K, or even a 10K level control. This applies to passive preamps, active preamplifiers, and power amplifiers when the control is to be installed at the Input. Check your owner's manual to find the the rated Input Impedance of your unit, or contact the manufacturer directly. Our 25K stepped attenuator usually value replaces replaces 20K potentiometers.
3)

-Regarding the choice of stepped attenuator values in Goldpoint SA1, SA2, SA4 (25K) and SA1X, SA2X (10K), much observation and thought has gone into this over many years. We concluded that the values which we are using for our standard off-the-shelf passive preamps and precision level controls should not be changed (unless really necessary or preferred for some other reason). Lower stepped attenuator values make them more compatible with a wider range of power amplifier Input impedances - which they might encounter over time.
Notes:
One common opinion states that with the higher value level controls, such as 50K and 100K, you can hear higher amounts of (desirable) high frequency harmonics, or even that "it sounds more open and airy". A similar opinion states that the lower values, such as 10K and 25K sound slightly "richer" or "more full bodied". The actual truth may depend on the equipment being listened to and/or which set or ears is doing the listening. I have found that the stepped attenuator (volume control) value is usually not so critical - and that it does not make as much difference as some people claim - but that other aspects of the equipment or system can make bigger, more noticeable sonic differences.
There is a common misconception that higher value volume controls such as 50K or 100K will result in LOUDER sound compared to using 10K or 25K volume controls. This is not true. 10K controls usually yield exactly the same loudness as 100K units. (Technically, there are other reasons why different value controls are used in different places or applications.)
Vacuum tube equipment often uses 25K, 50K, or 100K level controls, due to the high input impedance of tubes. Solid-state gear usually has 10K, 25K, or 50K level controls.
You can begin to have "high frequency roll off" beginning to appear with volume control values above 100K. If you don't have an engineer handy, or just can't decide, 25K is a good choice for both vacuum tube and solid-state equipment, especially for passive level controls.
We use the 25K stepped attenuator value in our home audio (RCA connector) SA1, SA2, and SA4 passive preamps. Our balanced (XLR connector) SA1X and SA2X precision level controls use 10K stepped attenuators - as this level control value is common in the Pro Audio environment.
Actually, you can also use a stepped attenuator value which is HIGHER than the rated input impedance - this doesn't really hurt anything - they are essentially just voltage dividers! So don't worry about it if that's what you end up with. The sound quality will typically not be noticeably affected.
Goldpoint Standard stepped attenuators of any value will always sound better than potentiometers -
due to the transparent sonic quality of the Thin Film Nichrome resistors we use on them.