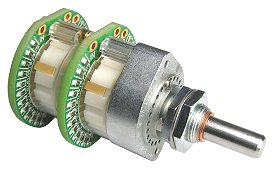 Stereo V24
0.5% thin film SMD resistors
(already installed)
V24
These are the best sounding, precise 24-position volume controls available. They come with pre-installed high quality SMD resistors. (Low noise, laser trimmed, 0.5% nichrome resistors). The sound quality is transparent, which is what you actually want in a volume control.

The readily available (audio taper) values we offer are:
5K, 10K, 25K, 50K, 100K, and 250K.
(We also offer a precision volume control replacement for the McIntosh C20.)