Goldpoint SA1X-47 - [Sept. 27, 2018]

Thank you Goldpoint! Transparent, precision, stepped-attenuation that lasts through the rigors of a working mastering studio, day-in and day-out.





Here at

Sage Audio Mastering

we've been using Goldpoint for over 10 years - not once have their attenuators let us down. Their precision, transparent operation, and durability have been essential in the studio; specifically for setting target analog Peak levels, and driving into equipment with accurate control to achieve specific RMS and/or LUFS during mastering. In addition, recalling session settings with their stepped attenuation allows unparalleled accuracy.





The transparency and accuracy of Goldpoint attenuators have

givin us the freedom to to create any desired tonality with the addition of detailed level control for every record - keeping each recording true to the original production, mix, and specific artist's or producer's vision.





S. C. (Nashville, Tennessee)

Goldpoint SA4M-47 - [May 5, 2018]

WELL DONE BRAVO WELL DONE my friend
well done.

[Here is] my headphone variety filled system
one source using the Quicksilver NEW HA
one with the George Wright WHA-22 one of
only two in the world - and one (my Favorite)
the pair of monoblock SET2A3 Quicksilver -
with your passive. The Resolution Audio OPUS21
as my source, which demands the quietest setup
of all - and you pass with flying colors...great
dynamics...spacial separation extrodinary...
great soundstage and oustandingly quiet above all.
GREAT JOB!

Sounds pretty darn impressive with my custom
built quicksilver 2a3 amps as headphone amps
through you passive with my exquisite AUDEZE
LCD XC

M. B. (Bath, Pennsylvania)





Goldpoint Stereo 24-Position Stepped Attenuator - [May 24, 2017]

I just wanted to say "Bravo!" and "Thank you" for the attenuator I got last week. My long and frustrating search for a volume control, which started about 8 months ago, has ended.

It started with a PEC stereo potentiometer, reco'd in a diyaudio thread, which actually sounded quite nice but was missing a bit of the top end for me. I then tried the ALPS Blue Beauty but that one seemd a bit harsh and flat. So then I tried a DIY shunt type stepped attenuator kit with PRP resistors and two naked resistors for the signal. I really didn't hear that much difference between it and the ALPS; neither was as good as the PEC.

I even built a DIY Arduino based LDR controller since I also would like to have a remote control for the volume. Once again, the sound just wasn't up to my expectations although using the Apple remote, and being able to calibrate the LDRs for different impedances/steps was interesting. Learned a lot though.

Then I happened on your product in one of the forums and it sounds just right in my system. Now I can move on to something else! D. B. (Alameda California)



Goldpoint SA2X-I - [Feb 18, 2017]
This product rocks, nice work!

B. Y. (Liberty Hill, Texas)

Goldpoint Virtual Ground Circuit - VG1 - [Feb 15, 2017]
I have just finished building the

VG1

circuit from www.goldpt.com/virtual_ground_circuit.html
and it's working like a charm. It's a versatile extension
to my bench DC power supply and will come in very handy
when I am ready to power up my breadboard vintage CPU
system (which requires positive and negative supplies).
Many thanks!!! J. B.

Goldpoint SW2X-O - [Oct 18, 2016]

I just wanted to thank you for the fast and valuable service. My Jeff Rowland Consonance preamp only has one set of balanced xlr outputs. The SW2X-O was the perfect solution for adding my balanced Firestone Bobby headphone amplifier into the mix. I had been swapping wires back and forth, what a pain. The switch is perfect . It amazes me that there is zero sound when switching between amps and headphone, not even a click or pop. Simply Awsome!!




M. J.

(Orlando, Florida)

Goldpoint SA2X-O - [Feb 2, 2016]

I received SA2X-O and started using it right away. It has solved a great problem for me and I can use the same preamp (Sennheiser HDVD800) for two sets of power amp/speakers (Active Adam A5X and Linn LK280/Spendor BC1) with perfect volume control. Thank you for a great product.


H. F.

(Redondo Beach, California)

Goldpoint SA4M - [May 23, 2015]

I want to let you know the level control SA4M [arrived] in good condition.This is my third Goldpoint product. My expectation was very high and I must tell you it sounds far better than I was hoping. Thank you very much. T. O.

(Japan)

Goldpoint V24 Stepped Attenuator - [January 1, 2015]
1) Thanks for the fast delivery of my order. This Mini-V blows the doors of my stock pot!
I mean its drastic. B. B. (Apache Junction, AZ)

2) I just wanted to let you know of the great success I have had with your GoldPoint stepped stereo attenuator in my AudioNote Kit pre-amp. ...the quality improvement is immediate and obvious. John Chapman of Bent Audio added a power source and remote to it, so I am able to control it from across the room. The nice detent feel is not lost when I turn the knob manually, so whether it is used at a distance or up close is still a pleasure.
Keep up your good design work. F. W. (Columbus, Ohio)

SA1X - [October, 2014]
"The Goldpoint SA1X is stunning. I purchased based on a recommendation from my pro audio dealer who does not even sell your products – quite an endorsement! I am running the passive attenuator directly from my source to gigantic active speakers (ATC SCM150ASL.) The music is more immediate now, and of course a source of noise has been removed, having switched from a very expensive active preamp. Really the noise floor has had an almost comical improvement. Superb."

C. W. (Bethesda, Maryland)

Goldpoint V24 Stepped Attenuator Compared to "cheap knockoff" - [May 12, 2013]
"Thank you for the fast shipment. Got the Mini-V installed in my KT-88 kit (Bob Latino) based upon the Dynaco ST-70 chassis. Everything is tight on this chassis and the Mini-V just barely fits in place of where the old stereo-mono switch is located. The Mini-V replaces a low end model stepped attenuator supplied with the kit that seems like it has linear steps. I now have better low end volume range plus additional steps which is fantastic. The Mini-V also sounds better with less edge on the highs and tighter, well rounded bass. Remarkable and a worthy upgrade indeed! Thank you again."
M. S. A. (Union City, California)

SA2X-M - [January 16, 2013]
"Hi Arn , Just want you yo know how much I am enjoying my SA2XM... This is an incredible little unit! I have never heard such a wealth of details emerging from a system that I thought I knew well..This is one of the best values in audio! My only regret is not discovering your company sooner...Bravo, Goldpoint! Cheers!" J.R. (Gloucester Massachusetts)

Goldpoint Stepped Attenuators - [23 August, 2012]
"Dear Madam or Sir,
I purchased a pair of Goldpoint attenuators for my Precision Fidelity C7 recently. The line stage was anemic although the tube phono stage was sweet with a pair of cheapo Bourns pots.
The Goldpoints are simply outstanding. Every source I have put through the C7 sounds sweet. Again the line stage seems to be the primary beneficiary but the phono has benefited too.
If anyone who reads this is debating whether or not your attenuators are a worthy investment, I would say they are worth their weight in gold.
Congratulations on your excellent product. Sincerely, L. F." (Norwood Massachusetts)

Goldpoint Stepped Attenuators - [April 2012]
"Your attenuators come highly recommended by more than one person I trust. This past week end I had the opportunity to hear and feel one in a preamp that was custom built by a NASA engineer in the home of one of my customers. The system was all custom built with among the finest combination of vintage and modern parts money can buy. I would estimate the system cost over $75K and it sounded better than anything I've heard at any high end audio store or audio show.

They could have used ANY attenuator on the market and told me they had a "collection" of hand built stepped attenuators they were no longer using since you convinced them to spend less than 25% as much on your Mini-V. The feel of your attenuator was silky smooth. When the volume was changed it was dead silent. The sonic signature was undetectable. What more could you ask for?

Unlike many companies I don't consider a quality attenuator an "upgrade option." I would rather "cut corners" with no fancy chassis or no fancy packaging then a critical part in the signal path ; ). I certainly won't be your biggest customer, but if I decide to use your attenuators in my products, they will be the ONLY option I offer." B. Z. (Ontario Canada)

SA2 - [July, 2011]
"WOW what a great preamp! Should have bought the SA4 but at the time didn't know how great your products are. Sources have never sounded better, (Oracle Delphi III/SME IV/Denon DL-A100) (Cambridge 640MKII CD). The detail carries to the extremes,standup Bass/ Cello so awesome.I went with your recommendation and ordered the 25K model,and the equipment disappeared with Goertz Alpha core silver and Goertz M1 copper speaker cables.(very low inductance)
Thanks again for a world class product. Cheers J. A. (Ontario Canada)
SA2XM-I - [April, 2011]
"Got your device today. I could not stop listening to music the whole night. Love it! What a beautifully crafted and meticulously engineered work of art... Well done" P. X. (Ashburn Virginia)

SA2X-I - [April, 2011]
"I purchased an SA2X because I have a DAC with balanced XLR outputs and a power amp with balanced XLR inputs and I needed to minimise the signal path between them whilst keeping the signal in balanced format. I cannot imagine any other equipment doing a better job of this than the SA2X. Sonic transparency is excellent. Build quality is superb. Top marks."
Doug Wylie (London, United Kingdom)
SA1 - [February, 2011]
I received my new SA1 Passive Preamp this week and I am impressed! The workmanship is superb and the sound, WOW! I had been using a dual 100k pot in a homemade case for my master volume and had some problems with it recently. I decided it was time for an upgrade to something much better. The SA-1 has given my system a whole new clarity that is amazing, especially in the upper frequencies. At first, I thought I was hearing what I wanted to hear, but no, it's for real! Who would think that a 'Passive' unit could make such a difference? I am a guitar player and I write, play and record my own compositions. With the SA-1 in the playback signal chain, my recordings have come to life like never before and that is a beautiful thing. Thank you Goldpoint for a truly wonderful product! J. R. M. (Dedham, Massachusetts)

Mono Mini-Vs Used In Prestigious THRESHOLD FE-10 He Preamp Upgrade - [January, 2011]
"We have installed and tested the two Goldpoint stepped attenuators ... in our THRESHOLD Fet-10 He reference preamp. The result is terrific, excellent!" "First of all, the gain in transparency is incredible. It is like if you had removed a (thick) carpet between you and the loudspeakers: you can now ear a lot of details that were totally hidden before..."
Michel BLOISE (Grasse, France)

See the complete article: "Threshold - Fet-10 HE 'competition upgrade'"
Visit the "Threshold Lovers" web site for many other interesting reviews and technical comments:
www.thresholdlovers.com (English) www.thresholdlovers.com (French)

SA1 Precision Level Control - [June, 2010]
"I just wanted to say thank you for helping me select the SA1. I am enjoying it immensely.
I have incorporated it into my system and it looks and sounds wonderful."
J. L. (San Francisco, California)

Positive review appeared in Japanese audiophile magazine "The Test Room" - [2010]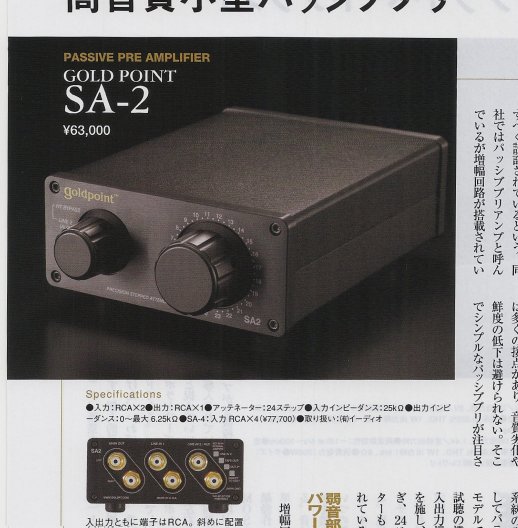 Mini-V Monaural Stepped Attenuators - [May, 2010]
"A week ago I received your stepped volume potentiometers. Thank you very much for the good communication and fast shipping. I mounted it into my tube preamp last week and now already have been listening some hours. The sound now is more open and linear than with the Alps pots I replaced. There also are more details and dynamics without any harshness in the music. I will be glad to recommend your potentiometers. Best regards." R. B. (Wagen SG, Switzerland)

Stereo Mini-V Stepped Attenuator - [April, 2010]
< editor's note >
"I concur - and found this out again (to my own surprise) while developing the Goldpoint Headphone Pro (which is like a sonic magnifying glass)." A.R.

"I received my Mini V attenuator, and have installed it in my Monarchy M24 DAC. I had read success stories about this upgrade, but was completely unprepared for the difference between your product and the stock Alps pot. It literally transformed the preamp side of the DAC. I have an integrated amp (Rogue Tempest II) with a passive preamp section which is very clear and nice, and I was missing that clarity with the active pre in the Monarchy. But with just this one change, the active pre is one of the nicest, most neutral preamps I've heard in the sub $1,500 category, and to think that is the result of a "volume knob" is truly eye opening.

This thing is DEAD quiet, and you can hear WAAY into the recording venue. It isn't sterile sounding, but just lets the signal through. Man, what a piece of gear. I've been an audiophile for 35 years, and this is easily the best money I've ever spent in this hobby.

Thanks for making such a great product for such a great price... remarkable!"
J. K. (Kennebunk, Maine)

Monaural V24 Stepped Attenuators - [September, 2009]
"...Received 10K mono controls today. VERY NICE INDEED!
Haven't decided whether I will use them in a passive or active circuit, but I can tell you that they make me smile by just holding them in my hands :-) Thanks again..." D. F. (Brinson, Georgia)
Custom Pro Audio Controller- [June, 2009]

"...finished my PUnC (Passive Uncolored
Controller). Thank You for the support and
also the great product."

T. S., Brotherland [mixing and mastering studio] (Jakarta, Indonesia)

SA1X
[June, 2009]
"Thank you for great product! SA1X is even better then I expected!
Simple and genius. Good luck!"
O. K., (Brooklyn, New York)

[December, 2008]
Greetings, I recently purchased an SA1X stepped attenuator [Passive Preamp], and it's the most transparent of any monitor controller I've used. Thanks for the great product. C. A., Mastering Engineer (Portland, Oregon)

SA4 - [September, 2008]
| | |
| --- | --- |
| | "I thought about trying a passive "preamp" for a long time. I had a decent active preamp already that I've been happy with for about 10 years. I knew I'd have to spend between 3 and 4k to do better, or take my chances with a used eBay unit. So after a fair bit of research, I decided to try the Goldpoint SA4. I knew what the advantages of a properly designed and built active preamp were and what disadvantages existed with passives. Well, after a couple of weeks of listening, I have to say that I'm quite happy with my decision. The SA4 makes it hard to believe I could do any better at all with an active unit. Any disadvantages in gain, or dynamic headroom are far outweighed by the crispness, clarity, focus and transparency all at a small fraction of the cost. 24 positions are more than enough and the unit has a great "feel". I now have a greater appreciation for the rest of my gear. Excellent product, I highly recommend. Sincerely, F. S., (Pickering, Ontario) |

DIY Vacuum Tube Preamp - [April, 2008]
| | |
| --- | --- |
| | ...I finally quit listening to my new preamp and got a picture of your attenuator in circuit. Thanks again - it sure sounds great. T. B. (Greenville, Tennessee) |

DIY Project - [March., 2008]

Attention Goldpoint, recently I purchased a Spiced mini line preamp for DIY I was very impressed by its simplistic design and knew this cute little preamp need the Goldpoint touch, I installed the 50K stereo Mini-V in place of the old pot, what an incredible difference, I cant wait for my next project. D. H.

Pro Audio Compressor / Limiter - [Feb., 2008] "Weighing in at 44 pounds, the Tube Equipment Corporation Model SR-71 "Blackbird" is a Dynamic MuŽ stereo compressor / limiter using the original Fairchild 670 design with modern components. It has the compression character of a Fairchild 670 with greater transparency owing to Sowter nickel-core transformers. It also employs a wider range of time constants including faster release times for modern percussive material. The stepped mastering version employs Goldpoint™ Precision Attenuators." Tube Equipment Corporation (Miami, Florida)

Custom Installation - [July, 2007]


"These pots are easy to install, have a good feel in use and bring an easy focus of both channels still allowing minute adjustment side to side."
Thomas M. (Santa Barbara, California)

Replacement Attenuator - [March, 2007]
"I just replaced my attenuators. It was easy, and the soldering spots on the new ones are easier to work with than those on the old ones. They are dead silent. Thanks for your help."
Mark (Ann Arbor, Michigan)

Custom Preamp With New SMD Mini-V - [January, 2007]
"I've completed my preamp with the Goldpoint attenuator and input selector...
Here are the highlights of the design:
- Battery powered (2 x 12V 1.2Ah gel = +/- 12VDC)
- Significant rail capacitance for very low supply impedance
at all frequencies
- LM4562 op-amp on custom designed PCBExpress board
- 15dB gain, non-inverting
- 1Hz to 200KHz -1dB
- Teflon signal wires
- Blue LED shuts off @ +/- 11VDC to indicate charge needed
- Run-time = approx. 40 hours before rechargeing is required
- Total project cost = $375
Noise and distortion is extremely low... It sounds fantastic. That is to say, it basically does not alter the sound and seems to be noise-free..." Paul P. (Rocklin, California]

Custom Vacuum Tube Preamp - [December, 2006]


"Thank you for all your help and a fine product, the grounded grid pre with the Goldpoint step attenuator sounds wonderful having nice dynamics and strong bass."

Peter C. (Redford, Michigan)

New SMD V24 - [July, 2006]
"Got the unit in yesterday and dropped it into the power amp...first listening impressions: Wow! Talk about detail and clarity! I noticed it big time right away, No hum or noise, and perfect tracking. All of a sudden my little EL34 triode-wired amp fed by my old restored Fisher R200 fm tuner has highs! EL34 is not exactly known for ultra 'high high' freq extension. The Goldpoint has extended the top end of my amp to a level I never knew possible; easily an extra 2-3k. I even had to reposition my speakers to adjust. There is no glare or 'edge'ness in the top end, just a 'smooth sounding extra extension, but certainly more high end than I've been used to. I'm sure it will sound even better after it 'settles in' over the next 100 hrs. of listening too.
| | |
| --- | --- |
| | The level of detail, very good before, is now just fantastic, and even at very low listening levels. I think that the taper is about perfect. At the fully attenuated position there is absolutely no signal whatsoever. At the first step the signal appears, very low but noticeable, and usable, and increases accordingly and perfectly in both channels all the way up... I'm impressed as hell.lol! |
I'm now having to think about upgrading my bookshelf speakers, which I never much thought about before. Amazing that an attenuator could radically change your system so much! I suppose this speaks as much about the system too, as I certainly can hear about any change I put into it, that is, if there is supposed to be a change, heh. Well, I'm very proud of my little system now; and the Goldpoint is certainly the final crown!

...Amazing what I'm hearing now, after listening to this amp in many, many different setups over the last 7 yrs.

Well, the Goldpoint is the best upgrade that's happened to it, since I first put in some 1958 Mullard xf1 power tubes, and that's saying a lot! ...This thing was certainly worth every penny! Ralph Harris (Bakersfield, California)

Mini-V Approval - [March, 2004]
"Just few words to tell you what you already know: Your Mini-V works perfectly, much better stereo image & very stable. Congratulation, no doubt this is a great upgrade. Philippe VAIDIE, (senior sound mixer at France 3, National French TV)

24 Positions Are Indeed Enough - [November, 2003]
Before ordering I was initially concerning about the number of steps in the attenuator not providing fine enough adjustment. After it arrived on Thursday last week and quickly installed into my Transcendent Sound Grounded Grid it proved unfounded with just the right number of 'clicks'. First listening tests immediately showed correction of channel balance at low levels (the main reason for investigating upgrades to the original cheap plastic pot). Having the attenuator significantly change the sound however was a real surprise! The sound was immediately more detailed but with a slight over brightness. After letting the system settle in over the next few days however the Mini-V has now found its way with the music (particularly with chamber classical, small ensemble jazz works and vocal pieces) and shows a level of detail, clarity and overall tonal balance previously unheard through the already excellent Grounded Grid. Thanks again for your assistance! A. B. (Adelaide, South Australia)

SA3 KIT - [March, 2003]
"The SA-3 has been operational since Monday March 24/03. The kit went together quickly with the well-documented instructions. It had a hard act to follow for the passive I own is no slouch. It does everything with more fine detail than my older unit. Depth? You bet! Dynamics? Absolutely! Most of all it has great transparency. It is an outstanding product at a very reasonable price." R. F. (Winnipeg, Canada)

Mini-H Compared to Alps Blue Pot - [January, 2003]
"I received the shunt type stepped attenuator on Friday. The instructions were very clear and the quality of the parts were very high. It took me about 2.5 hours to put the kit together; however, it took about another 3 hours to install it because I had to make new holes in the amp's metal cabinet, without using a drill! However, in the end it worked beautifully. I wish I had thrown out my Alps Blue volume control earlier and bought this one. I now hear vast sonic improvements all across the spectrum. The bass is deeper and better defined, the mid's and the highs are smoother and better defined as well. Spatial clues and imaging have also greatly improved. Tonal textures are more accurate, and there are details jumping from my records that I never heard before. Overall, the new attenuator is absolutely great. Now my HD83 headphone amp is really singing. I hope you sell many more of your stepped attenuators.."
Best regards, D. W. (Ottawa, Ontario, Canada)

Custom Quad Goldpoint Attenuator in McIntosh C20 - [August, 2002]
Your attenuator has solved all volume and balance related problems. It has made an already great sounding preamp sound better than ever! ...the crowning glory to the restoration/upgrading of my McIntosh C20 preamp..." Sincerely, Dave B. (Nacogdoches, Texas)
| | |
| --- | --- |
| C20 - Before | C20 - After |

Goldpoint Ladder Attenuator Application - [August, 2002]
"The attenuators arrived this morning and i have fitted a pair to my own pre-amp, this has had many other potentiometers tried in it and i can only say that were i am now is were i would wish to have been a long time ago! All others altered the bass or treble in an unnatural way, violins were more "hi-fi" now much more natural, low level detail now so much more part of the music as a whole with older (1960's) recordings showing previously unheard detail. My cd player also sounds like much more money has been spent on it. (i am a turntable nut but also own a cd player) . Perhaps the conventional potentiometer somehow is overloaded by cd's typically high output (2-3v)? Finally and this is a very big plus i now have excellent control over volume and able to listen at much lower levels also." --A. D. (West Yorkshire, U. K.)

Ladder Attenuator Assembly and Use - [June, 2002]
"Just a quick note to let you know how I got on with the ladder attenuator. Assembly took me about 3 hours in total over a few weeknights - I took it slowly and was careful with the soldering. It works beautifully - no clicks or pops at all, so no need for the big ground resistor. I'm using it in my DIY preamp which is a scratch-built version of Bruce Rozenblit's "Grounded Grid" preamp. As for the sound - superb! A real improvement on the previous volume control, and I couldn't be happier. I had a DACT stepped attenuator before, and although it works well I had the distinct feeling that it had a "cold" and "brittle" sound with a recessed midrange. I know subjective terms like that aren't very helpful, but that was my impression. The Goldpoint is much nicer to listen to, and I can't imagine wanting to change to anything else." Tony (TG) (Sydney, Australia)

SA-1 / SA-3 Comparison Review - [June, 2002]
"When I received the SA-1R (with Roderstein resistors) and the SA-3, my first listen was to the SA-1, which I compared to my reference Monolithic PA-1 passive/active line stage. Although I did not use an SPL meter for level matching, I was very familiar with the source material and I could easily hear improvements in resolution, clarity, bass definition, and image specificity. Although the Monolithic is a little more flexible with a tape loop and a second set of outputs, and was a definite improvement over the Creek OHB12 passive linestage I had previously tried, it was not in the same sonic league as the SA-1R. The only reservation I had concerning the SA-1 was that voices, especially female vocals, had a slight glare, or edge on high pitch notes. I use silver interconnects and speaker cables throughout the system, and I suspected that I hadn't heard the glare previously but that it was inherent in the silver cabling. It took the increase in resolution that the SA-1 was imparting to expose what I assumed was a cabling flaw. As it turned out, when I substituted the SA-3 for the SA-1, all traces of glare disappeared. Additionally, I detected improvements in channel separation, the outcome of which was a perceived widening of the soundstage. All the improvements that were present with the SA-1 were there with the SA-3, in spades! I am hearing details in my musical selections that were barely audible before, and even some background sounds and voices that I never detected before! The SA-3 really helps to bring performances closer to the listener and you really get a clearer sense of the emotional intent of the performer(s). The other day, I tried to stop listening to the equipment so intently and just get immersed in the sound, but I found the ability of the SA-3 to unravel hidden musical nuances so engaging, I couldn't resist being drawn further into the listening experience. Thanks for a superior product." Larry Carmin (Middlesex, N.J.)

Mini-V Compared to Alps Blue Pot - [May, 2002]
"I replaced the Alps Blue pot of my Croft Carisma tube preamplifier for your Goldpoint Mini-V Dale 0.1% mono Ladder Attenuators..... The sound is much better!!!! The sound is now more soft, improved detailed, transparent, sweet and extended lower frequency and dynamic ranges!!!!! Many thanks for a product with well engineered, superb finish and very nice sound indeed...." Best regards, Prof. In Sun Koo (South Korea, Chinju)

SA-1 Experience - [January, 2002]
"I've had the SA-1 volume control box in my system for over a month now and couldn't be more pleased with the quality and value. Congratulations on a fine product!" G. T. (Chicago, Illinois)

Mini-V Compared to Bourns Plastic Pot - [January, 2002]
"I have the Mini V attenuators assembled and installed in my 300B monoblock amps. I am very pleased indeed with the results. The levels are exactly right with the attenuator around the 10th position. The look and feel of them is just great! Of course there is also a vast improvement in the sound over my old Bournes plastic film Pots. Very nice indeed ... M. A. (Northamptonshire, United Kingdom)

Mini-V (with Holco 0.1% Resistors) Upgrades Alps Blue Potentiometer - [October, 1999]
"Astonishing sound!! I replaced the ALPS Blue Pot of my Simply 845 Single-ended Triode Integrated amplifier for your Mini-V Holco 0.1% Stepped Attenuator... The sound is much much BETTER!!! It's like change my Very good Amp for another amp two leagues above... No doubt, this is the most inexpensive way to boost up the sound quality of any amp with a pot inside (I'm talking about VERY clear changes... no subtle ones)... The sound is now MANY more detailed, transparent, sweet and spacious!!! Many thanks for a product with superb finish and better
sound!!! -Jose Ramon Garcia. (Madrid, Spain)

Mini-V Used for Potentiometer Upgrade - [May, 1999]
"I have received the two attenuators on Tuesday. I have installed them and yesterday I have listened to some music from CD and LP. I have to say: my amp plays in another league. It offers more detailed but also sweeter sound. Soundstage is MUCH (!) better and bass is faster and deeper. A real step to higher quality of reproduction..."---Dominik Bruecher (Basel, Switzerland)

Mini-Vs Used for Active Load Line Settings - [March, 1999]
-"I am using an active load line in the cathode follower stage of the driver of my Atma-Sphere M60 amp. This circuit performs really well with the proviso that the resistors in the active load line are balanced and tuned. This usually requires a precision potentiometer, but I didn't want to send my signal through such a noisy device. Arn and I designed a set of resistor values [over the phone] that worked with the Goldpo- int rotary switch such that I basically had 1% detents over the range of resistance in question. When I finished building the amps, it was really easy to balance the load lines and they sound absolutely incredible."- --Alok Gupta (Seattle, Washington)

Mini-Vs (with Roderstein resistors) Used in Production of High End Vacuum Tube Gear - [February, 1999]
"We just started to manufacture a dual mono, tube line stage with separate left and right attenuators. We obtained various samples from different manufacturers and decided on the Arn Roatcap, Goldpoint Series Type 24 stepped attenuators for production. They were, by far the best of the lot. The sound was superior with the lowest noise ( w/ Roderstein 1% metal film resistors installed and at 25K) and the workmanship was also top notch."---J. F. (Cranston, Rhode Island)

Mini-V In Mono Block Amplifiers - [May, 1998]
"We manufacture mono block audio tube amplifiers. In our last production run, we installed a pair of your mono 250K attenuators (supplied by our customer) in a pair of our amps. We were so impressed with the performance of these units we would like to offer an attenuator as an option to our customers... Congratulations on offering a well engineered, well built product." D. B. (Dallas, Texas)

Goldpoint Ladder Attenuator - [March, 1997]
"I just wanted to thank you very much for the Goldpoint attenuator I picked up yesterday. Got it installed. It sounds wonderful! It's just absolutely a great step up from what it was and I can't thank you enough. So, once again, congratulations. A great product!"- --M. B. (San Ramon, California)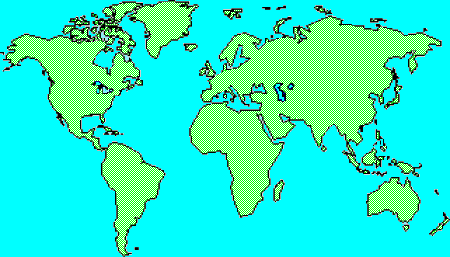 Some of our worldwide customer locations